YAY! DPK is excited to be returning safely to offer in person programs, as well as continuing to offer zoom as an option. We will continue to monitor and add back more in person as we best feel safe for all. We are offering classes, professional development, trainings, gatherings, and programs upon request in addition to our scheduled offerings.
Please connect with me to further explore together.
I look forward to being together soon.
---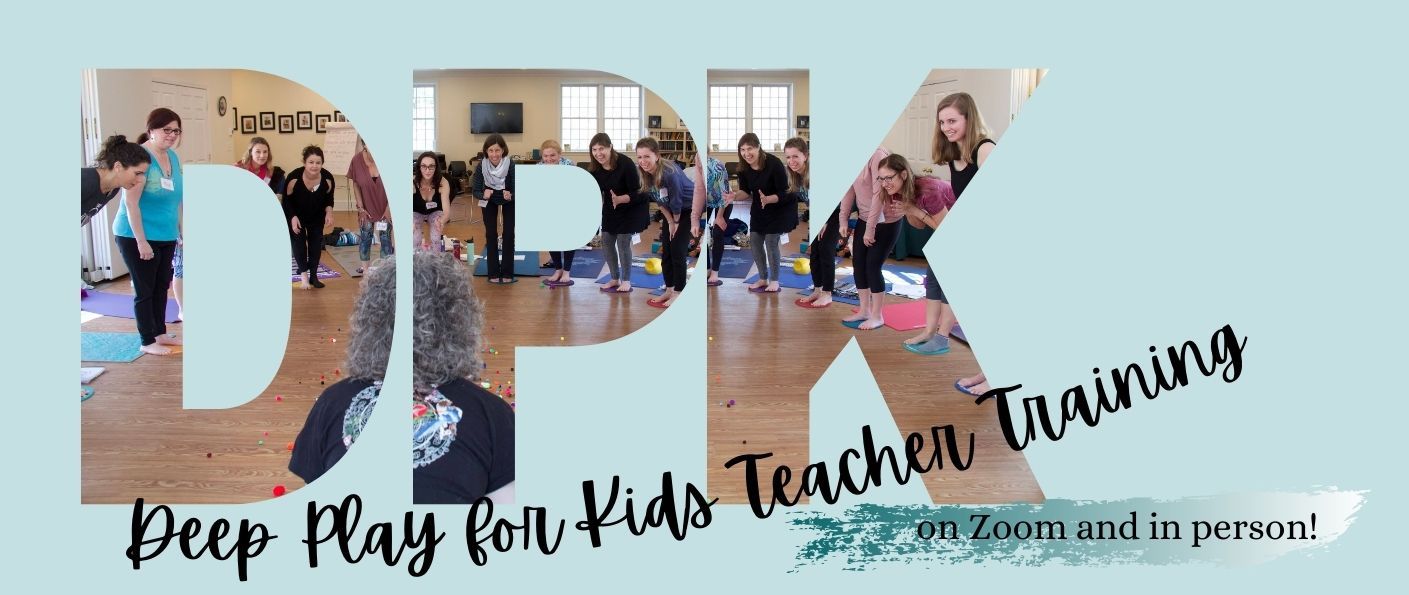 Deep Play for Kids Foundational Training For Adults Program Times:
Friday, July 16-18, 2021
Location:
Hamden, CT In Person and
also on Zoom
Click Here to Register!
Do you long to deepen your connection with children, and with yourself?
From the comfort of your own home, or safely in a beautiful studio setting in person, join me for an amazing opportunity to immerse yourself in kid-ified play, steeped and rooted in the comprehensive science of mindfulness, trauma sensitive wellness, yoga and meditation:
Lovingly educate and plant seeds
Empower kids to be their own best teachers
Make yoga and mindfulness practices fun, relevant, adaptable and age appropriate
Support kids to come from a place of empathy, compassion and authenticity
Share evidence based self regulation and self-soothing skills to decrease depression, anxiety, Zoom fatigue, build resilience, develop compassion for self and others, and to be able to respond rather than react
Now is the time to support ourselves, our children, our children's children ~
​ If Not Now, When?

Each course will have tiered pricing as follows:
Actual Cost: $595.00
Reduced Cost: $495.00
Support Someone in Need: $695.00+
For questions about scholarships, please email Missy directly.


Click Here to Register!
Are you ready to come out to the divine playground and play?
​
---
DPK was not just a training, it was a mind-body experience. For me it was an expressive explosion of joy going outward through dance, asana and play. I left with a tool box spilling over with practical applicable ideas and tools to bring mindfulness and yoga to children. Missy is an incredibly talented and gifted leader and teacher. This training was profoundly impactful and an inspirational experience
- Lisa Sheehan

---
I am excited and thrilled to be offering private sessions in person and over Zoom. Designed to meet each individual exactly where they are with safe and supportive space. Re-creatable tools for building self-esteem, self-regulation and resilience, not only for the worst day, but for all days! Mindful kindful adaptable experiences that can be popped into home and daily life. I care so deeply for the future of our world, and for the younger generation whose hands we are passing it on to. For some children and teens, there is an increase in anxiety, depression, isolation, negativity and perfectionism. While the why is being examined and explored, for me the ask is - how can we support them in building stronger mental wellness? They don't need to be 'fixed', they are perfect and whole. We can support them in learning tools and strategies to help themselves navigate. We can support ourselves to give from a more full well. Studies have been linked with a strong sense of self and increased mental well being. Please connect with me to learn more.
---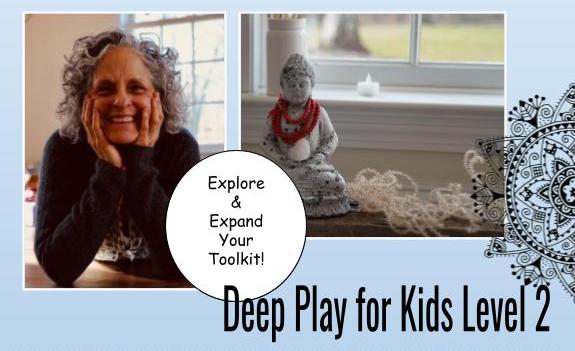 Deep Play for Kids Level 2 Teacher Training
Program Times:
Friday, July 23-25, 2021
Location:
Hamden, CT In Person and
also on Zoom
Click Here to Register!
The Divine Playground is calling you back!
The world of Deep Play for Kids is vast and dynamic, and DPK continues to develp engaging, effective, and fun methods for children. This Level 2 training not only expands upon what you learned and experienced in DPK Foundations training, it invites you to explore new layers of the Deep Play for Kids methodology, including:
Trauma sensitivity awareness
How to incorporate the beneficial tool of mind-mapping into your interactions with kids
An even deeper dive into the role of physical movement in development
How to incorporate feelings and emotions into play
New meditation and mindfulness techniques
Even more games and class ideas
What the Chakra system is and how it can be incorporated into work with children
The importance of and ideas for your own self-care practices
And so much more!
This training is a combination of discussion and experiential, comprehensive fun. It offers an opportunity to come together as a community to cultivate strategies and tools to support children and ourselves.

Each course will have tiered pricing as follows:
Actual Cost: $625.00
Reduced Cost: $525.00
Support Someone in Need: $725.00+
For questions about scholarships, please email Missy directly.


Click Here to Register!
Are you ready to come out to the divine playground and play?
---
Missy loves what she does and it shows in every minute of her DPK training. Her enthusiasm is infectious and she is DPK! ~ DN
---

Empower Kids Yoga - 95 hour registered Children's Yoga Teacher Training.
This brand new 4-weekend-module program with DPK and others will take you from birth through teen, and beyond. You will leave with comprehensive, adaptable tools and strategies to share the gift of yoga with the young people in your life, and to care for yourself while doing so. Dates and details will be released soon.
​
For a sneak peek, contact me here.
---
---
I am blessed to have had the experience of studying with Missy in her DPK training. She is a powerful and joyful facet of the latest wave of social change by means of teaching youth social emotional techniques ~ JG

---
---
---
Missy has given me the tools to share my light with any child in my life. I am now equipped to help children shine their own light and I can't to wait to bring DPK to as many kids as I can. Everyone loves Missy!! ~ JB

---
---
---
My greatest wish is that everyone has the privilege to meet and study with Missy Brown. The inspiration and transformation from my being with her is like nothing I have ever experienced. I am not sure which is bigger, her heart or her knowledge ~ SB
---
---
Deep Play For Kids is a proud member of
Kripalu Yoga and Ayurveda Association,
as well as an honored and respected presenter at Kripalu Center for Yoga and Health.
Deep Play For Kids is a proud and grateful affiliate of the
Children's Yoga Teacher Training Collaborative
- a Yoga Alliance approved 95-hour teacher training program. Hours completed in DPK Foundations Training (Level 1 ~ 20 hours) and DPK Expanding Your Toolbox Training (Level 2 ~ 25 hours) can be counted towards the required 95-hours to complete a Registered Children's Yoga Teacher (RCYT) certification. Soon to be added DPK Divine Presence (Level 3 ~ 25 hours) will be included in CYTTC.
Deep Play For Kids is a Yoga Alliance Continuing Education Provider (YACEP). Those who are 200 hour certified can count the DPK trainings as Continuing Education Credits (CEC) with
Yoga Alliance
. ​
---
www.deepplayforkids.com All Rights Reserved. 2016.