Missy is a great force to learn from because of her openness and ability to listen not just with her ears but with her heart. She keeps whatever she conveys to you simple and fun. Her joy and passion are contagious. I dare you not to come away wanting more! ~ YB

---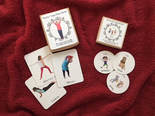 I am so excited to announce ~ 2 different sets of Deep Play For Kids Cards are 'hot off the press' and ready for purchase.
Affirm Your Awesomeness and Playful Pose Cards
Please contact me at deepplayforkids@gmail.com to place an order.
Ordering directly on my website is coming soon..........
---
---
Photos
---
Deep Play for Kids weekend was a lovely, safe, playful, introspective retreat from everyday. Missy has melded her many years of personal and professional experience into an amazing training and Missy's deep love, open-heart and playfulness shined through all weekend ~ MD

---
Videos

Breath Break - Quiet Your Mind
Join Missy as she uses pipe cleaners and beads to help kids of all ages reconnect with their breath to support self-soothing.

Breath Break - Square Breathing
Join Missy as she introduces 'Square Breathing' as a method to allow kids to calm and settle their thoughts.

Breath Break - Flower and Candle
Join Missy in a fun breath break using visualization of flowers and candles to focus the breath and center the mind.

Breath Break - Hoberman Spheres
Join Missy as she uses a Hoberman Sphere to playfully connect kids with their breath and learn a little about their lungs as well.

Breath Break - Take Time to be Quiet
Join Missy in a 'do anywhere' practice to introduce kids to time-in so they feel for themselves what a difference a few breaths can make.

Breath Break - Kids Can Teach Too
Kaya shows Missy how to use Singing Bowls to cultivate inner calm.

DPK is an invaluable experience for everyone. It offered an amazing amount of practical concepts and ideas to use in any setting involving children from 4 - 94! The welcoming and generous spirit of Missy and her staff was the icing on the cake ~ DD