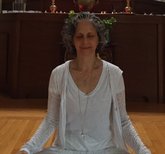 Here's what people have to say about Missy

---
Kind Words from Training Graduates
As a elementary school teacher, and a mother of a now teenage son with Aspergergers, Deep Play For Kids and Missy Brown have been absolutely invaluable. The brilliant, creative, simple, tools and games, tips and strategies have been easily incorporated and implemented into my home and my classroom. This is a MUST for everyone. Missy is a magical fairy that is like the Pied Piper and the Dhali Lama rolled into one amazing, generous, love oozing, remarkably gifted teacher, educator and woman ~ TC
DPK was an amazing experience. And so much fun!! Surrounded by love, kindness and complete acceptance, we were able to receive so much information and so many techniques we can share with children. One of the best parts of the training was learning that there is no one "right" way, but a variety of paths to take depending on personalities, participants and situations. The workbook and props we received enable us to turn this learning into action pretty quickly. Sharing this enrichment with others will send little rays of light into the world. Thank you, Missy and all the helpers. Namaste. - Suzanne R
My Deep Play for Kids training experience was incredible. Missy and her wonderful helpers brought a different perspective of yoga into my life, one that I will carry with me always. I was reminded of my child self that always resides inside waiting to burst out and play! I cannot wait to use the Deep Play for Kids techniques and games I learned and bring yoga to children. I only wish that I had been exposed to Deep Play as a kid myself, but it is truly never too late! - Alessandra P.
Deep Play for Kids training with Missy Brown was the learning opportunity I've been waiting for. Applying the benefits of breath and the connection between mind and body through a modality that children can relate to and benefit from. After participating in the training in DPK the benefits can take place at home, school, or in a class, either alone or in a group. DPK can be modified for children with physical, emotional, or mental challenges or to meet other individualized needs. DPK incorporates play, breath, visualization, movement, stillness, sound, and silence. When doing DPK it's ok to use voice and make noise and laugh out loud. With storytelling, by sharing or listening, or moving in silence or to music or chanting you are doing yoga and breathing and releasing, and using motor skills, and socialization and PLAYING. Feeling and expression is safe in this space through your breath and body... what a gift! Learning teamwork and routine by being part of the group a child also experiences appropriate personal space and independence while having fun. Sharing and expressing emotions, stories, play, togetherness, separateness... if, how, and when it feels ok with the individual child's mind and body is what makes DPK so unique. We are never done learning and every time I share space with a child I learn something. Participating in the training of Deep Play for Kids with Missy and her team in the role of a child taught me the benefits of the freedom to move and make sound and the joy of being uninhibited... all with the benefits of breath and yoga through play. As a mom, a nationally certified counselor, a trained yoga therapist, continually taking workshops to explore as much as I can to help children feel safe and happy in this world, I am very confident that Deep Play for Kids has so much to offer my child as well as any child that I work and "play" with. I look forward to the next Deep Play for Kids and to discover what else I can learn from Missy and her team. -Cheryl
Deep Play for Kids weekend was a lovely, safe, playful, introspective retreat from everyday.
Missy has melded her many years of personal and professional experience into a training that
has the ability to reach and affect a diverse group of people. This training would be relevant to
people on many different professional paths, different ages, people who have worked with
children for many years, and people who are simply interested in bringing more playfulness and
yoga skills into their own lives and to the children in their lives (parents, grandparents, uncles,
aunts). Missy's deep love, open-heart and playfulness shined through all weekend. - Mary
"Thank you for the fantastic workshop. I had a wonderful time and got many ideas I can try with my students in the classroom that I know will help them. You are such a great teacher; your passion for yoga, children, and sharing knowledge shines through you like a twinkling star! It was a joy to share the afternoon with you. I look forward to seeing you again." - Peg C ~ participant in kids yoga intro workshop
Missy... Missy... Missy Brown... My first encounter with Missy Brown was when I brought one of my friends children to a Deep Play for Kids workshop at an event in Fairfield, Connecticut. I stood back in awe at how she guided those children, listened to them and allowed them just to be themselves. Then, I had the good fortune to take a Let Your Yoga Dance certification course in Puerto Rico this past March, not knowing that I would have her again as one of my teachers. Missy clearly loves what she does and that comes through loudly. Every word and gesture is a loving gift to the receiver. Missy brings such a stable force when conducting class and creates a safe and secure atmosphere with her presence that is such a blessing for all students. While I have practiced yoga for over 15 years, I am a massage therapist not a yoga teacher. Missy made it extremely easy for me to use my natural body movements along with the yoga postures to enrich my experience during the LYYD dance celebration of the spirit. Bottom line, Missy is a great force to learn from because of her openness and ability to listen not just with her ears but with her heart. She keeps whatever she conveys to you simple and fun. Her joy and passion are contagious. I dare you not to come away wanting more!
Having just completed the 80 hour
"Let Your Yoga Dance Teaching Training Retreat"
with Missy, I remain in awe of all that she gave to me as a participant. Her warm loving presence, combined with her kind and gentle spirt, mixed with her wonderful sense of humor, humility and passion for teaching are some of the many gifts she brought to this in-depth training. Her enthusiasm and joy are infectious and inspirational. She gives the best of herself, so that I could give the best of myself. She helped to create a supportive, sacred and safe space, and a strong community for me to embrace my own fears, honor my body, and quiet my inner critic. She offered creative practices for teaching by helping me understand the power of combining yoga, world music, the chakras, the yamas and niyamas, moving meditation, dance, creativity, self-expression, chanting and Prana/breath. The daily building blocks of these practices seemed to magically transform me into a stronger more confident self. Using Missy's exercises of "witnessing" how others feel in relation to a specific chakra allowed me to experience the healing powers of the chakras. As others opened their hearts, my own was cracked open in return, and a tremendous amount of healing and growth took place. Without that safe and sacred space, and trust in our community/tribe, this would not have been possible. She taught me that using all of these tools together is an act of healing, grace and pure joy. I look forward to sharing what I learned and spreading this joy out into the world. None of this would have happened without Missy's gentle guidance and huge heart for which I'm forever grateful. MO
Missy I had an amazing transformative experience during your teacher training. I felt warm and welcome in a space that allowed for open expression and release. I felt great support and encouragement throughout the training. It was joyous filled with emotions from the whole range of feeling. I am forever thankful to have had the pleasure of being in your guidance, knowledge, and love. Anthony R
DPK training opened doors for future options. I am always looking to grow and discover my dharma and after this program I feel that so much is available to me. The hands on activities were great to internalize the work and the positive vibes were also! The message and lessons are universally beneficial, it was perfect! ~ DPK participant
As a fifth grade teacher I find the games and breathing techniques practiced in DPK training to be extremely valuable. They are short so can easily be woven into our school day without having to (take something out). Easing students stress and providing them with tools to self-regulate will help them in school and at home. So very grateful for it all. The organizational structure is spot on and all modalities of learning were addressed and used to teach us how to teach our students. ~ DPK participant
Missy is amazing, and so is her team! Through hands on, experiential learning hat was conducted in a playful exuberant way, I was able to learn so much that I look toward top incorporating into my teaching practice. I loved the emphasis on bringing energy levels up and then back down and creatively supporting brain development with yoga ~ DJ
As a social worker, this training gave concrete tools to engage and use with kids, and I will use these every day. The program was a wonderful, fun, inspiring experience. I will be helpful and practical for anyone who works with children. Missy, Amy and Lisa clearly have passion for this important work! ~ CB
An experience that I will truly never forget! Dealing with the issues of my own inner child, bringing her forward to today, and accepting who she has become. Amazing informational outstanding training. I appreciate all that you do Missy. With love ~ KB
Do you want to become more mindful? Deep Play For kids Training teaches YOU to BE in the moment while you learn great approaches to bring mindful play to all ages ~ GF
"Just spent an incredible 10 days at Let Your Yoga Dance Teacher Training with Jurian Hughes and Missy Brown the Dynamic Duo! Truly Transformational! Amazing instructors that gave so much of themselves and taught us so much. We all left the training with the skills, confidence and tons of resources to Teach Let Your Yoga Dance with Joy, Love and compassion." JLB
Oh my stars, Missy knocks it out of the ballpark leading with warmth and a gentle presence like an exquisite drummer, never loses the pulse of witnessing. I am privileged to be embraced with her overflowing generous heart and to bear witness to her embodiment of Acharya (advanced spiritual teacher). Missy you are my inspiration of love itself. Missy brings is a level of professionalism combined with an embodied model of compassion and self-care which are powerful attributes for a sincerely capable and loving leader. I wish to thank you for the most compassionate and loving experience that is the Let Your Dance Teacher Training. I feel empowered by the teachings and inspired by Missy who co-lead the program in Puerto Rico 2017. Missy naturally and seamlessly integrated fun and joy with a depth of sharing that encompassed the deeper teachings of Swami Kripalu. These teachings make the program exciting with a fluid organic presentation that is easily accessible for every one as well as being so much fun. I now feel confident and completely ready to start teaching and look forward to leading my first Let your Yoga Dance Workshop next week in the UK. After very many years of practice, I know not everyone is able to 'transmit' teachings and it is my humble opinion that the qualities Missy brings to your Let your Yoga Dance Training are exceptional as they are developed through her life experience from childhood to her exquisite sense of fun as expressed in her Deep Play for Kids program and the path of Acharya. The journey through the Chakras with all the carefully chosen music and back-up info from two very experienced leaders and magnificent human beings make this such a joyous exploration of our precious energy centers and I wholeheartedly recommend this program to anyone curious about life! Look forward to working with you again Missy and Jurian.
I had the privilege and joy of doing a training with Missy and I can honestly say her teachings are a beautiful gift. I feel truly transformed as a woman, as a mom and as a teacher. I can't wait to use everything I experienced on a personal as well as professional level. Out of many teachers whom I have taken trainings with, hers was one of the best. Her devotion, passion and skill comes through in every moment. She resonated with me in my heart and has inspired me to be a better person. The wisdom and depth of experience make her not only authentic, but ignite enthusiasm in others who are committed to bringing these practices out into the world. If you ever have the chance to study with her, DO NOT miss this opportunity. SG
I would highly recommend any Kids Yoga or Adult training that is taught by Missy. I initially met Missy in 2011 at a Kids Yoga teacher training at Kripalu and have taken many more trainings with Missy since then including Pranotthan Yoga and Let Your Yoga Dance teacher trainings. Missy's enthusiasm, joy, and playfulness make her a natural teacher. She is a warm and caring person who makes everyone feel welcome and special. Her trainings are fun and inspiring and are a valuable source of creative ideas for my teacher "tool box." I can't wait to "play" with Missy again soon! Lynda J.
Missy is the embodiment of supporting children. She has a true gift in cultivating the best in all people and finding ways to bring to the surface everyone's "inner child" that we have often forgotten. Her spirit is magical and attitude infectious in the most positive of ways. She has created the architecture and framework for building a mindful practice in young people which in turn will create incredible citizens that come from a place of authenticity, love and compassion. Starting with children is how we change the world and Missy is the architect for such a needed place. She has taught children practical skills such as cooking, reading, physical fitness and human decency through her Deep Play for Kids program. These skills, in the current age of technological innovation, have been lost but are being reclaimed through her work and passion. What I have learned over the years is that the basics are what matter and her ability to bring that to life will pay off in the world on both the practical material level as well as through the subtleties of human interaction that we all tend to take for granted. Kids need joy in their lives. They need hope. They need love. Never have I seen anything more cultivating of these lost qualities then through Deep Play for Kids. Deep Play for Kids is what EVERY child and adult should be engaged in. This is pure goodness in the making. Want a better society? This is the answer. I have used what I learned to create more space, joy and compassion in my own life. It was an inspiring experience and one that is absolutely priceless. - SKH
"My Deep Play for Kids training experience was incredible. Missy and her wonderful helpers brought a different perspective of yoga into my life, one that I will carry with me always. I was reminded of my child self that always resides inside waiting to burst out and play! I cannot wait to use the Deep Play for Kids techniques and games I learned and bring yoga to children. I only wish that I had been exposed to Deep Play as a kid myself, but it is truly never too late!"
"Missy has a pure heart for sharing her open heart with mothers, teachers, students and kids alike. She has a gift of helping children cultivate their own unique talents and come from a place of love and gratitude which is so important in this digital age to connect to the heart. Missy is a pleasure to learn from. I've had the blessing of learning from Missy over the years and my kids were the recipients of a week of bliss at Kripalu in Lennox Massachusetts."
Gabrielle Hazan, mother of Daniella age 10 and Adam age 8
After taking the amazing Deep Play For Kids training with the amazing Missy Brown, the first thing that comes to my mind is that I added a deeper level of connection and understanding of the children in my classroom, and in my life! I noticed all the different styles of learning and the importance of acknowledging
and promoting the uniqueness (and special abilities) of each child in my daily teaching.
I included many of the tools Missy taught us including breath breaks, play (movement with intention) and mindfulness activities throughout my class.
I feel that this training has opened my eyes and heart to soften and see what all the children in my classroom (and life) offer on so many different levels. I
have noticed a shift in myself, as a teacher, co worker, friend, parent... to accept myself and share my uniqueness-just as i encourage and teach the children in my classroom to embrace and celebrate their uniqueness!
I see this as a gift from DPK to myself and the world.
I wish that everyone could take this training. This is an amazing opportunity for everyone, especially educators ~ Amy

Missy and the Deep Play For Kids Foundation Training was an uplifting and enlightening experience.Though my intention was to solely pursue a career in children's yoga, that does not need to be the intention of everyone taking this workshop. If you are a parent, sibling, babysitter, or someone whom works with children, etc, it does not matter, everyone can benefit from taking this workshop. The DPK training Missy has set up will literally help anyone get back in touch with your inner child (if you have been out of touch) or at least renew that confidence and carefree play that our inner child has, allowing us to absorb new and fun techniques to connect and teach children. Some of these techniques I wish I knew when helping raise my four younger siblings, would have been a great help, haha . In all seriousness, I feel anyone can truly benefit from the DPK, and though it may seem geared toward children, you can use these tools to teach anyone of any age. I was not sure what to expect going in, but I was sooooo happy I had signed up by the end of the first day. I learned so much in such a short amount of time, and I look forward to future DPK lessons from the amazing Missy. She is such a bright light in a sometimes dark world. The gift or ability she has to be free, loving, and fun, it is contagious, and when you experience all she has to offer in person, once you witness this fantastic energy first hand, you will know exactly what I mean, and you yourself will be anxious to share all you have learned with the world. ~ DPK participant

I attended Missy's Deep Play Kids weekend in Fairfield CT in November. The DPK training was absolutely AMAZING from start to finish. The location was fantastic. A beautiful house converted into a yoga space all to ourselves. There was lots of natural light that enhanced the experience while eating and getting to know each other in the studio-house. The water and beach right behind the house were private and lovely and were greatly appreciated. The beach provided a great retreat during breaks. I was able to walk, bare-foot - even in the chilly weather - and collect shells. The sea is always rejuvenating and calming for me.
I loved how we were immersed in the practices of yoga as adults, a weekend retreat, for sure. Missy, Amy, Lisa, and Marcy all helped create a peaceful, sacred space, where we could be ourselves. I love how two of the major components of Missy's DPK teachings are mindfulness and the breath. We had first-hand experience learning over 20 types of breaths that are created to explore with children. We also played lots of mindfulness activities like "kissing the earth" with our feet, TOE-GA, mindful eating of a raisin/chocolate chip, and listening to ringing or signing of of chimes and singing bowls, to name a few. In addition, we also had first-hand experience of over 20 games/activities that are designed for children of various ages. Favorites of mine include "Sculpture Garden," "Pass the Hula Hoop," the crown experience, and Mirror, Mirror, but all of them are fabulous and fun and fantastic! Everything is so easy to follow, because it is rooted in our own experience. Missy's training is experiential, which means you are practicing and playing and exploring everything through your body and heart rather than talking about it, just through the mind. Still, Missy has created a beautiful, concise, in-depth, yet easy to follow manual that covers all of the postures she uses with kids, among many other things. It is apparent that Missy has put her whole heart, great attention, and deep care into her curriculum and training.
There is SO much more besides the breath, mindfulness, games, and postures that we explored in this training. Missy provides you with some teaching tools to take home! (Surprises await!) We had opportunities to dance and explore movement using scarves and fun props. The meeting of yoga and dance is exquisite and divine. We had opportunities to lead classes with and for our peers. We discussed lesson plan formatting and ways to structure a class. We played, created, and dabbled in artistic endeavors. Missy, very discerningly, incorporates Howard Garner's learning styles/different intelligences, raising the point that all children (and people) learn differently. She models and explains ways to connect to various learning styles. This weekend and training were so lovely, because we had the opportunity to connect to the heart, both with ourselves and with others. You will leave feeling refreshed, renewed, inspired, and wholly ready to take on teaching and sharing the gifts of yoga, dance, and deep play with children.
One of the greatest benefits of taking this training is the community that I stepped into. Missy has created a private, online community where I have stayed connected with her and my fellow DPK yogis. It is so empowering and wonderful to be part of this community! ~ Meg G.
Although I have been practicing yoga for over 20 years and have recently become a certified yoga teacher for adults, I had little knowledge of DPK until last fall when Missy was a guest presenter during my 200hr. teacher training. Missy's presence, love and respect for children and people in general was infectious. As her presentation and workshop unfolded it became very clear that DPK offers essential tools and opportunities for kids of all ages to become more accepting and comfortable with themselves and their environment.
This training provides valuable tools and methods to reach kids of many ages through mindfulness, active play and yoga. Missy is infinite in her ability to care about "our" kids and the way they perceive themselves in our world! I am thrilled to have the chance to offer DPK to the families in my community and beyond! Joan Dodd
If you have kids or work with kids in any capacity, I highly, highly recommend the Deep Play For Kids Training! It will provide you with tools, supplies, knowledge and confidence to incorporate fun and engaging mindfulness activities and emotional intelligence skills into your children's life or into your classroom. And not only that, but you will leave the weekend feeling refreshed, rejuvenated and ready to share! I've taking quite a few trainings and this is by far the best one I have attended because
M
issy Brown teaches you what you need to know while still setting time to guide you through/allow you to explore your own mindfulness and self-care practice ~ Sarah
If you are working with, mentoring and/or parenting children, you must take Missy Brown's Deep Play for Kids Yoga Training. Missy Brown and her dynamic DPK team create a nurturing, safe space to learn with others who are looking for more meaningful and effective ways to connect with and help children learn to tune into their physical and emotional bodies. The DPK model is fun, creative, and accessible. Missy and the DPK team draw you right in with their amazing spirit and energy to learn the DPK methods to breath, meditate and move through yoga postures and play. Missy's authentic and non-judgmental style inspire you to deepen self-reflection, heighten self-awareness, and enhance your ability to be present in the moment. DPK has re-energized my yoga practice, parenting, and classroom teaching. - Mom of four, Preschool Teacher/Educator and Yogi for life
I completed the Deep Play for Kids (DPK) Module 1 Training about one year after completing a 200-hour Yoga Teacher training program. My experience in the training has been extremely valuable to my own development both on and off my mat: as a yoga teacher, a classroom teacher, a neuroscientist, and a parent. The DPK training really empowered me through theory, hands-on activities, practical examples, and supervised practice with constructive feedback. The training materials and practical tools (e.g. the children's yoga poses cards) have also been extremely useful. Currently, I am teaching yoga and mindfulness to young adults with special needs, in a post-high-school transition program. The techniques I learned in DPK, are easily adaptable to a variety of age groups and needs' levels. This training gave me not only an incredible bank of resources, but more importantly courage and freedom to be creative in my teaching. I learned that planning is important, but so is going with the flow in a class situation. Meeting the children where they are is essential. The names of the postures is not as important as using safe movements to help children and young adults express themselves and practice self-regulation. I learned that I can share breathing techniques, balancing strategies, and movement with children of all levels and capabilities - all in a fun, loving, non-judgmental way. Most importantly, children not only benefit tremendously from the experiences, but they thoroughly enjoy the process. I even use many DPK techniques with my adult clients. We all benefit from play and getting more in touch with our inner child. Thank you Missy for sharing your wonderful wisdom, uniquely creative self, and generous heart with me. I can't wait to take Module 2!! ~ Debby Carroll
Missy is obviously so passionate about her work and cares deeply about children, adults and everyone. She listens, asks questions and is very intentional. Thank you for this beautiful opportunity ~ KR
I am blessed to have had the experience of studying with Missy in her DPK training. She is a powerful and joyful facet of the latest wave of social change by means of teaching youth social emotional techniques ~ recent graduate
Missy is an incredibly gifted teacher with so much love & passion in her heart that comes through in everything she does. She has so much knowledge, experience and love to share with others. She is deeply committed to sharing yoga and mindfulness to Children and Adults EVERYWHERE! I highly recommend this training for everyone!!!! It is such a healing, loving and fun weekend ~ Beth H
Missy's workshop was inspiring, creative and thought provoking. DPK can help improve the lives of kids and practitioners ~ a training participant
As a mom of 2 toddlers, I feel so grateful to have had the opportunity to learn DPK at this time in my life. I am confident the tools and skills will help me be a better mom and offer mob children ways to play and relax that they can take with them the rest of their lives ~ Danielle P
DPK has been an inspirational and motivational experience that enlightened me in the ways yoga and meditation can benefit children of all ages in a variety of settings ~ DPK graduate
Missy's inspirational heart centered approach to honoring the whole child is a gift to all. Her program is well planned and was an absolute honor to be a part of ~ Kandie H
---
---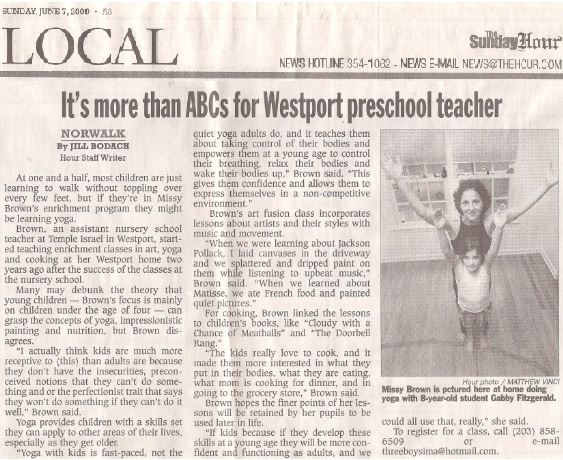 ---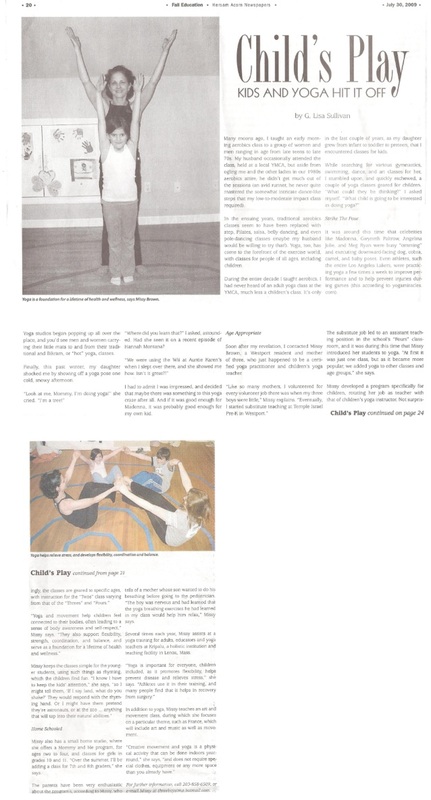 ---
Kind Words from Parents and Teachers

"Missy is the best thing that has happened to our family and to my son. He struggled in school, with therapists, in social situations and in our own home. Missy's open heart, passion, dedication, inner wisdom and amazing ability to make everyone feel safe and accepted has been a life saver. My 9 year old son expressed that she is the only person who understands him and helps him. He is more confident, less anxious and wishes she could come everyday! Every single child should be lucky enough to be with her. Missy, his developmental progress is much to your credit. You should know that you have made a positive difference in someone's life and I am forever grateful." - Traci C.

"I believe that the "Chick Connection" played a HUGE role in the developmental progress in my daughter's life. You know when she started with you she was a bit reluctant. Now all the skills and success she has experienced in the group setting I truly believe have carried over into her everyday life. It's been a long time coming, a lot of Chick Connection classes and yoga classes and it's now paying off. So, I thank you again for all you do and continue to do. It's much to your credit and you should know that you have made a positive difference in someone's life. I am forever grateful." - L.F. Parent of Participant

"My three children have been taking classes with Missy Brown for several years. She is amazing on so many levels. Missy has a gift, a passion for teaching. Her kind spirit not only engages children to learn and create new things but also empowers them to think 'out of the box.' She maintains an emotionally safe environment which makes it a breeze to drop off my children (sometimes difficult to pull them away!). Missy's three sons, Isaac, Max and Alex, have assisted in teaching various sessions including summer camp. They are remarkable young men full of life and wise beyond their years. They are a shining example of Missy's ability to open young hearts and minds. As I sit here and type my 7 year old son leans over me and says 'what you are writing mom is nice and it's also very true!" Need I say more?' Our community is lucky to have Missy Brown and her enrichment classes available to us!- Jill Rutsky, Mom of twin 7 year old boy/girl and one 4 year old girl who all attend Missy's classes.

"Speaking as a mother of a shy 4-year-old girl: O had to pry my daughter off my leg at first, but by the time I returned, she was smiling ear to ear and couldn't wait to come back. Missy is a nurturing figure who knows how to speak to children, she knows how to engage them in learning and creating. We have now signed up for not one, two, but three future classes! Science, Art, Cooking...so much to choose from. I have been searching for the QUALITY class, where I really feel that I get what I pay for and we have found that with Missy brown."- Debra Tobias

"Missy's classes far exceed my expectations for any after school class! She is warm and loving. My daughter has such a great time she doesn't even realize she is learning. We look forward to receiving copies of the recipes made at the cooking class so we can make them at home together. My daughter is so proud to teach me how to cook! I cant wait for my son to be able to start her classes!" - MG, mom of kindergarten aged daughter

"My son LOVES coming to Missy's classes! In fact, sometimes he will ask out of the blue when he can go to Missy's! Missy's enthusiasm and warmth is infectious. She treats every child with so much love and respect, like every child is her own. Her classes are so much fun, interesting, and intellectually stimulating" - LF Mother of 5 year old boy

"When I picked up my 4 year old she immediately said: 'when can I go back!'… Missy's classes are amazing! My daughter had so much fun, learned new things, and made something she is so proud of. Missy is hands on and made my daughter feel like she could accomplish anything. It is by far the best enrichment program I've found in Fairfield County." - DG, mom of girl age 4

"This experience has been the best thing for my son and our family. Our child is very shy and anxious. From the moment he walked in to the class he was a different person. Missy's gentle, warm spirit captured our little boy's heart. This mind and body journey is a new beginning for us and we can't wait to continue to see the rest of the adventure unfold. Thank you Missy for changing our world. " - Traci, mom of Jacob, 7 years old

"My son Max has enjoyed going to Missy Brown's house for camp, classes and enrichments for almost one year now. He gets so excited when I tell him that a new session is starting and that he can go to Missy's house for something. He loves her science classes more than any activity he does. He loves having her son Isaac teaching him as well. Her classes are engaging, fun, exciting, and all in a very nurturing, loving environment." -Bari, mom of 5 year old son

"My mom and I actually cried after reading what the kids did with you this week. My mom was blown away by all that goes on with her grandkids and also by what the kids had said and did before we even read this weeks summation. So many things you did in "camp" with them reflected the joy we had at home with new experiments and enthusiasm to teach each other new things. You rock rock rock!!! I keep pinching myself – I cant believe my children are so lucky they have you. I just want you to know --- you are amazing!!!" -Mom of 3 children who attend Missy's classes

"What a pleasure it was for my children to attend Missy Brown's Science program this winter. To find someone who has both the scientific knowledge and the extreme love of children is a very rare and special combination. The Science was always presented in such a creative and fun manner that my kids had no idea they were actually learning. Missy's son Isaac has obviously inherited her love of children. He was amazing with the kids, and so incredibly patient with all of them. How fortunate for our community that we have a program like this available to our children." -Parent of Bobby, age 4, and Alexa, age 6

"My daughter loves coming to Missy's classes. We both had such a wonderful time at mommy and me yoga that we continued it for 3 sessions and started practicing together at home. My daughter also took Missy's cooking classes and now not only tries new foods, but eats much better and helps me in the kitchen. I feel very comfortable with my daughter in this safe home environment and the small student ratio." -KBF, mom of 4 year old girl

"The children are having so much fun, they don't even realize they are learning. Warm, nurturing, safe environment."
- Julie, mom of 6 year old boy

"You have a gift for working with children and your passion is unending" - Mom of 4 year old girl

"Thank you so much for giving us an inside glimpse into the wonderful day had by all our children with those photos. The smiles and sheer joy on their faces is a testament to you and your crew. My daughter is absolutely loving Missy camp! Have a mentioned I think you are amazing!!!!" -Mom of 4 year old girl

"This has been a wonderful class! The boys and I have loved everything about it. They are so excited to go to class each week and they light up when they tell their dad and me what they cooked in class and also what they learned. We love the recipes and are looking forward to making all of them. Hopefully the boys will take cooking again next fall and then science!!Thank you!" -Mom of 4 year old twins

"My son has LOVED coming to your cooking class. He's generally pretty tentative in new situations with new people but he hasn't been with you -- you've been wonderful with him! Your warmth and welcoming spirit has made us all feel so comfortable. I can't believe how much he is learning about nutrition and sharing with me. We're excited to have found you and can't wait to sign up for camp. Everyone should know about you, but as my friend who passed your name along said 'you are the best kept secret in town.'" - Mom of a 6 year old boy

"Our girls have been attending Missy's classes and camp for years now. It is truly amazing – and comforting – how well-run every single session is. Missy is a font of creativity and patience and we always feel blessed to have her right here in our backyard." -Cheryl and Steven Smith, Parents of Rayna (7), Lilah (4), and Abby (2)

"Missy Brown is the best kept secret in town. Thank you for sharing your many talents, enormous heart and the work you do with our lucky families - we love you!" - Mother of boys ages 4 and 6 who attend all of Missy's programs

My two daughters, ages 7 and 5, had such an amazing experience with Deep Play. Missy is able to weave together so many elements - creative expression, social intelligence, confidence-boosters - in a program that both honors the individual student and creates a supportive, loving community. I've noticed my daughters use the meditation techniques they learned in Deep Play when they encounter a stressful situation. They tell me at least monthly that they can't wait to do Deep Play again next year. - NM

My son Jason participated in the DPK every year from the time he was 7 till he was 11. He loved it. He learned so much and got so much out of the experience. These programs helped him in getting involved and enjoying group activities helped him express himself and make new friends in a creative and safe environment. Thank you Missy for all that you do! - Ray Crist Father

Missy Brown is the child whisperer, Mary Poppins and the Pied Piper all rolled into 1. My 2 children have been attending programs here in Westport in her studio, as well as in school and at Kripalu. The permission to be who they are is an invaluable tool she magically weaves into anything she says or does. I can only imagine how different my life would have been if I had had her in my life when I was growing up. She has forever changed our family and I am truly grateful to know her. Mom of girl age 9 and boy age 6

As a mother of an anxious tween girl, I do not know what my daughter or I would have done if our therapist had not referred us to Missy. Although my daughter is 'the client', Missy spends as much time if not more with me. She is such a kind, brilliant, generous woman and I also have learned so much from knowing her. Thank you Missy for teaching us all skills and tools to manage the things that life has in store.

"I can't begin to thank you for all you have done for our daughter. She has suffered and struggled with emotional and physical challenges for much of her 15 years of life and we feel like we tried everything. Thank goodness our pediatrician referred us to you. You are the most kind, patient, wise, wonderful woman and my husband and I are so grateful for your help. You always made yourself available and came up with such creative ways for her to feel better even when limited due to medical issues. As she returns to school she feels she is armed with so many things and so much confidence. The strategies you taught her, and me, have been so useful when going to dr's and hospitals and it's amazing how much less scary it all has become. We are so happy to know you and to have you on our team" - LK.

Thank you Missy for all that you are and all that you do. How I wish I had had someone like you in my life when I was a kid. You just seem to know what they are thinking and feeling and wanting and needing. My girls love you and count down the days til it's time to come to class. Even their teacher notice how much more confident, kind and calm they seem. Please never stop doing what you do, the children of the world need you! - Andrea L.

My 6 year old daughter was fortunate enough to participate in Missy Brown's Deep Play for Kids at Kripalu this summer. It was such an amazing experience, for both her & for our family! She was so excited to see what each session would bring, and left with many new friends and techniques that she still practices and talks about, months later. Missy Brown is a fantastic teacher, with a huge heart, and her enthusiasm is highly contagious. Her passion for teaching & kind spirit engages children to learn, empowers them to think, and gain self-confidence. My daughter was empowered to express herself in a safe environment, and was encouraged to use her imagination, creativity, and become more self-aware. I often hear her saying "Peace begins with me", while tapping her fingers, and see her deep breathing, all skills she learned from this very powerful weekend. My daughter loved the guided relaxation each day & loved partaking in the affirmation exercise. - L.F. Fairfield, CT

When my son was 6 years old, he was diagnosed with a chronic disease and had a very difficult time expressing his emotions and feelings. He was often angry, anxious, and frustrated. Together we went to talk to a therapist, but most of the time, he just didn't want to talk. I reached out to Missy Brown because I was feeling hopeless and scared, and she started working with my son, one on one, helping him to regulate his emotions. I cannot thank Missy enough for "saving" our family. After just a few sessions, he was starting to use the tools and strategies that they worked on together, & my son was back to "himself". She created such a warm and nurturing environment, where he felt safe and comfortable to express his fears and worries. She taught him life-long skills that he will forever carry with him, and will use whenever faced with difficult emotions. Missy is truly a gift and we are eternally grateful for the experience she gave our son. - L.F. Fairfield, CT


---
Deep Play For Kids in Action


Coming Soon.